H

olistic

E

ating

A

nd

L

iving

T

oward

H

ealing
An integral part of holistic approach for health and healing requires nutritional diet, supplementation and even some tools for better result. But when you search on the internet, it's very time-consuming and it's very hard to choose high quality ones, so over the years in my own healing journey, not only have I done a lot of research, but also I have tested countless products in myself experiencing the benefits it has brought to my own health.
My criterion to select and recommend is based on these factors: quality of ingredients---organic and/or natural; bioavailability with high absorption; benefits seeing on myself and my families; recommendations by reputable holistic and naturopathic doctors.
My top priority and intention is always trying to provide valuable information and best resources in alignment with my holistic principles to make it easy and convenient for you as you make positive changes in your health and wellness, so that you don't have to spend a lot of time to search and a lot of time to try. I hope my research and effort here is a blessing to your health.


Apollo Olive Oils are among the few in California that are certified both organic and extra virgin. They are raw, unadulterated, and 100% cold-pressed on the vacuum mill designed in Tuscany to preserve the highest levels of flavor, nutrients, and anti-oxidants. In fact, our award-winning oils average three times the polyphenols of typical extra virgin olive oils.
PuraTHRIVE® offers premium quality liquid supplements featuring Advanced Micelle Liposomal delivery that combines nature and technology to optimize absorption, potency and bioavailability.


Organixx

is dedicated to offering the highest quality clean supplements. They're organic (USDA certified whenever possible), wholefood, as well as sprouted and fermented (when possible) for maximum bioavailability. Every supplement we offer is 3rd party tested by NSF, certifying our products are clean from heavy metals, toxins, and pesticides.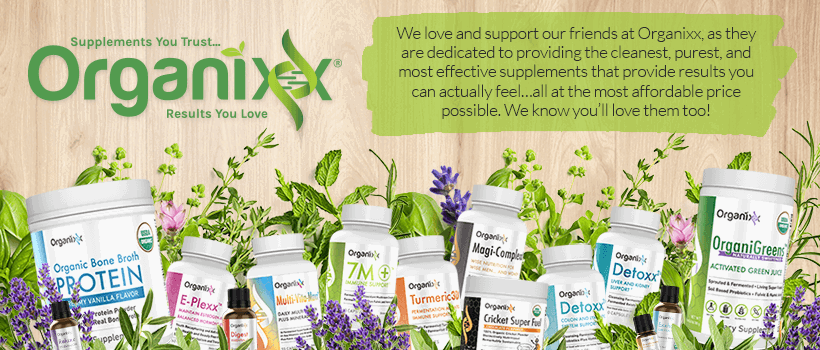 Use coupon code ENERGY4LIFE to get 15% off of your First order!


ION*Gut Health works at the gut lining, where 70% of your immune system, to defend against environmental toxins, and support respiratory wellness. Order here
Doctor Created, Doctor Supported, Doctor Recommended mineral formulas with particles small enough to penetrate cells! Order here to get 10% off of your first order.
Vibrant Blue Oils

is the preferred practitioner source of pure, organic and wildcrafted essential oils blends for physical, mental, and emotional health when used in combination with healthy lifestyle changes, healing diet and nutritional supplements.




Vibrant Blue Oils Thrive Kit™ contains three powerful oils – Parasympathetic®, Lymph™ and Adrenal® – help support the brain's ability to detoxify and heal. Purchase Thrive Kit

Vibrant Blue Oils Gut Repair Kit™ contains three powerful oils – Parasympathetic®, Intestinal Mucosal Repair™ and Anti-Inflammatory™ – helps support regeneration and repair of the small intestine.

Purchase Gut Repair Kit


Lymphatic congestion is very often the foundation for chronic or viral infectious stress. Sophia Flow™ Cream is a powerful lymphatic detoxifying cream, used transdermally to support the immune system.

This cream is based on decades of most advanced research on the human microbiome and its master role in human well-being by Dr. Dietrich Klinghardt and Dr. Christine Schaffner.

It is entirely produced in USA in a fully certified GMP facility, FDA registered facility, using only the highest quality ingredients.

Sophia Flow™ and its ingredients are extensively microbiologically tested by expert analytical chemists.
Over one hundred brands of quality supplements benefit a wide range of health conditions such as allergy, blood sugar management, brain function, detoxification, digestion, immunity, hormonal balance, mitochondrial support, sleep, stress etc. Click here to order and use coupon code YX-5 to get 5% off of your order.
Therasage supports the vision of a holistic, beneficial regimen of living by bringing unique healthy infrared healing energy to the public in easy to use and affordable, high quality products. They have become the gold standard for energy healing naturally healing infrared, negative ions and eliminating EMF's (the harmful frequencies that electronic products generate.
Click here to purchase using coupon code LIFEENERGY for 10% off of your order!
Thera360 PLUS Portable Sauna---the World's only personal Red Light & full Spectrum Infrared Sauna
1,000,000+ people have chosen Berkey over other water filters.
More than a filter. Removes 200+ unsafe contaminants.
The Berkey is a powerful filter able to remove more contaminants at a lower cost per gallon; than Faucet filters, Pitcher filters, Whole-House filters & Bottled water. With the Berkey there's no plumping installation or power required, so set up is simple!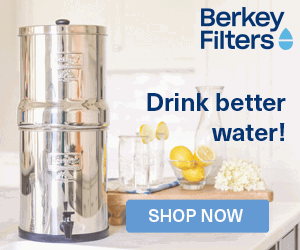 This compact air purifier uses ActivePure® Technology that has been proven to reduce over 99.9% of many common airborne and surface contaminants including viruses, bacteria, mold, fungi, VOCs, smoke, allergens, and odors.
New and improved ActivePure® Cell design delivers ActivePure® faster
Freshens air and removes odors in stale environments
UVC light mimics cleansing
Reduces dirt and dust from the air
Positive and Negatively charged ions reduce small particles and airborne pollutants
Founded in 2008, doTERRA's mission from the beginning was to share the purest, highest-grade essential oils with the world, including single oils, blends, safe body care, and chemical-free cleaning products.